Home›Tech Vault›H. Ranger Overdrive for Ford 4 speeds
H. Ranger Overdrive for Ford 4 speeds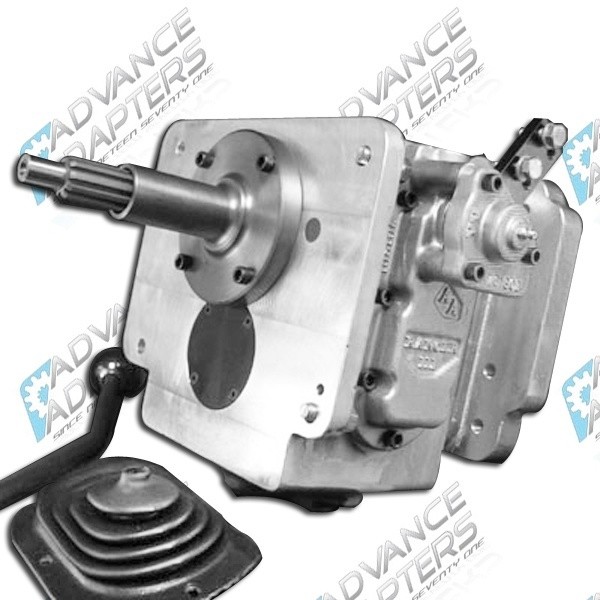 The Ranger Torque Splitter is an auxiliary gear box that bolts in front of the standard Ford 4 speed transmissions. This fully synchronized unit allows you to split your gears at any time. The unit is available in a 27% overdrive.
The Ranger has been in production since the late 1960s, and Advance Adapters has been manufacturing the unit since 1976. Through the years it has gone through several design changes. Today's unit is cast aluminum, measuring 7-1/2". The gears are helical cut and the shifting mechanism is a short throw manual shift. The unit is built to handle 420 ft./lbs. of torque and has a G.V.W. rating of 25,000 lbs. This unit is ideal for towing applications or improving gas milage by lowering the RPMs.
The unit weighs 80 lbs. and is easily shipped via UPS. It has a 1 year unlimited mile warranty from the date of shipment. For more detailed information and parts list, we can fax or mail you the Ranger Instruction Sheet (Ranger OD).
FORD
PN760010M-27 1965-1970 Ford Overdrive with a 5.125 index
PN760014M-27 1971-1987 Ford Overdrive with a 4.848 index
(Note: These units are for Ford 4 speed transmissions and will bolt directly to the 4 speed and bellhousing with only minor modifications. Driveline and floorboard modifications are required.)
Ranger Information Ranger