8. Atlas T/C- Speedometer Options
Mechanical Speedometer Housing
he Atlas Standard 32 Spline tailhousing is the only housing that offers a speedometer option. The Atlas Standard 32 Spline tailhousing is designed to fit a stock Jeep (1982 & up) mechanical driven speedometer housing. These housings drive a cable that operates the speedometer. This speedometer housing is from a 1983 to 1986 Jeep CJ. The speedometer gear is not included with this housing, but by using the charts (Fig. E) that follow you can select the correct gear for your tire size and axle ratio. Some of these gears are hard to come by, so we may not offer the gear for your application. Note: The mechanical speedometer housing use the long style pinion gears. (pinion gears are not included with housing, however may be purchased separately) PN300620
Plug The Speedometer Hole
If your application does not require any speedometer connections, we also offer a plug for the tailhousing to keep any dirt and debris out of the transfer case, and provide a sealed environment. PN300621
Electronic Style Speedometer Housing
The Atlas only accepts the mechanically driven YJ & TJ Speedometer. The late model Jeep TJs with the Rock Trac 241J transfer case used a tone ring and sensor for the speedometer pickup source. This combination is not able to be used on the Atlas tailhousing. The earlier NP231 style speedometer will work the same as the later model tone ring and sensor. One advantage is the mechanical unit is easy to modify when larger tires or different ring and pinions are used. The charts (Fig. E) that follow offer different drive gear part numbers to calibrate your speedometer. Note: The electronic speedometer housing use the short style pinion gears.(pinion gears are not included with housing, however may be purchased separately) PN300637. Tire diameter is figured with the actual tire diameter not the size listed on the side wall. Most tires are smaller in diameter than the size printed on them.
Speedometer Calibration Chart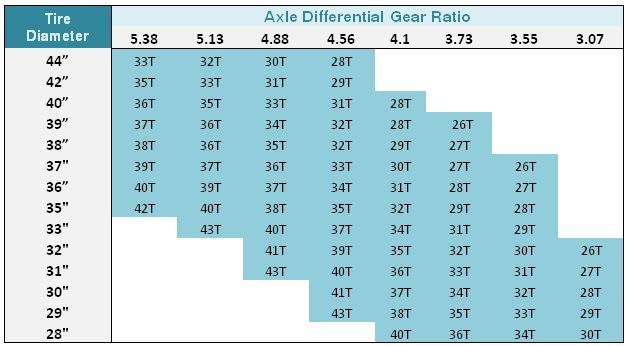 Ford Full-size truck & Bronco 87-91speedometers:
Regardless if your speedometer is mechanical or electronic, you must use our PN301506.
If you have a mechanical cable driven speedometer, a custom cable will need to be made. The 301506 has a 7/8" thread and the Ford is a metric thread. If your stock unit had a electronic set up, a cable adapter can be used from the 7/8" thread to a pulse generator that will send the computer the correct pulse needed. Both the mechanical and electronic components can be obtained from Nevada Speedometer 775-358-7422.
Toyota Speedometer Cable Adapter 1995-97:
This cable adapter allows the Atlas speedometer drive housing (P/N 301506) to couple to the stock Toyota speedometer cable. You can then retain the factory gauge and have all the added benefits of the Atlas transfer case. This cable adapter is sold under PN300613 and has a Toyota side- 22mm w/ .203 female fitting, and on the other end couples to the Atlas speedo housing side- SAE 7/8"-18 .104 square.
Toyota Speed Sensor 1998-Newer , FJ Cruisers, T100, Tacoma:
This kit allows you to retain the factory Toyota Vehicle Speed Sensor when installing an Atlas Transfer Case. A speedometer cable is used with a sensor housing to remote mount the VSS that was originally installed in the Toyota transfer case. This kit is sold under PN300605. You will also need the speedometer housing PN301506 for the Atlas and the proper drive gear.