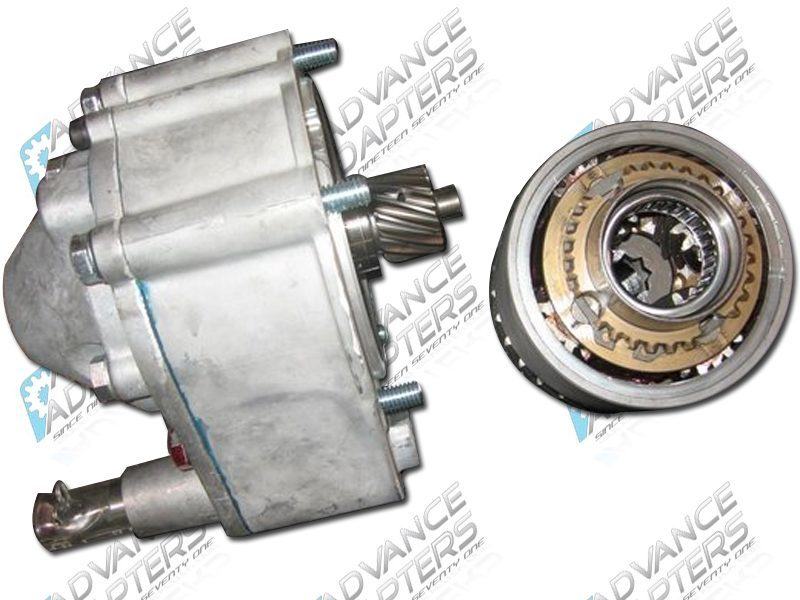 This all-range overdrive is a great addition to any of the early model Jeeps from 1940 to 1971, and I.H. Scouts 1961-65 with the Model 18 transfer case. The addition of this 25% overdrive unit offers you the needed gearing that the early Jeeps were lacking. The Saturn overdrive is a fully synchronized unit that can be shifted-on-the-fly. When installing the unit, only minor modifications are required to the floorboard for the shifter. The Saturn is built to handle up to 300 ft./lbs. of torque, well within the range of a stock V8. If you are interested in a lower gear set for your Dana 18 transfer case, but would like to retain your overdrive, we offer a Saturn bowl gear that will work with the gear reduction kits currently on the market. If a low gear set is purchased, we have available a Saturn overdrive less the bowl gear.
The Saturn is the original unit designed and developed by Warn Industries. Advance Adapters purchased the tooling, engineering data, and inventory from Warn in 1991. The components we manufacture today are the same as the old Warn components. We have incorporated a few upgrades on the units we sell today, but these units are all still interchangeable with the original Warn overdrive. (Note: The Saturn is not compatible with the Husky unit.)
APPLICATION INFORMATION: To select the proper overdrive model, find your vehicle model and transmission type listed below. The Saturn overdrive will only fit the vehicles listed that have a Dana 18 transfer case.
Part # Description Vehicle Models PN915670 26T x 6 spline M38, M38-A1, CJ2A, CJ3A, some CJ3B, 4-63 4X4, 4-73 4X4
PN915672 29T x 6 spline CJ5, CJ5A, CJ6, CJ6A,4-74 4X4, some CJ3B, 6-266, 6-230
PN915674 29T X 10 spline (T14 trans) CJ5, CJ5A, CJ6, CJ6A PN915678 27T X 6 spline PN915676 31T X 10 spline (Mitsubishi Jeep only) PN915677 6 spline overdrive (minus the bowl gear) designed for the Tera Low & Jack O'Brien low gear sets. ($738.71)
SHIFTER APPLICATION: Shifters are sold separately. Part # Description PN920000 T90 Dual Handle T/C PN920001 T90 Single Handle T/C PN920003 Universal Saturn Shifter PN920013 T14 Shifter
Saturn Overdrive information saturn
SATURN PARTS LIST:
PARTQTYDESCRIPTION
NO.REQ.
PN9110431HEX NUT
PN9110672BRASS SYNCHRO-RING
PN9110693SYNCHRO DOG
PN9110713SYNCHRO SPRING
PN9110781SHIFTER SLIDER RING
PN9110904PIN, PLANETARY GEAR
PN9110912NEEDLE BEARING
PN911092126-TOOTH GEAR
PN911093129-TOOTH GEAR
PN9110942THRUST RACE
PN9110951THRUST WASHER
PN911096131-TOOTH GEAR
PN911097127-TOOTH GEAR
PN9110981TERA LOW BOWL GEAR
PN9110992NEEDLE BEARING
PN9111002THRUST WASHER
PN9111031SHIFTER FORK
PN9111051SPRING, SHIFT DETENT
PN9111061SHIFT DETENT BALL
PN9111071SHIFT RAIL SEAL NEW STYLE
PN9111081SHIFT RAIL O-RING SEAL
PN9111091SPACER WASHER
PN9111301GASKET CASE
PN9111311GASKET BODY
PN9111331OIL SCOOP
PN9111371O-RING
PN9111431NEEDLE BEARING
PN9111472RETAINER RING SUN GEAR BEARING
PN9112361SPECIAL SNAP RING
PN9113131ROLLER BEARING
PN9113164THRUST WASHER
PN9113261BEARING CAP
PN9113281CASE COVER
PN91133016 SPLINE SHAFT
PN9113341SPACER WASHER
PN9113361GASKET CAP
PN9113371STATIONARY MEMBER
PN911338414-TOOTH GEAR
PN9113418THRUST WASHER
PN9113428NEEDLE BEARING STRIP
PN9113461DRIVE MEMBER
PN9117311DRIVE NUT
PN911731-S1SPECIAL METRIC DRIVE NUT
PN9118061LOCKWASHER
PN9118381RETAINER RING
PN9123881ROLL PIN
PN9132961SHIFTER SHAFT
PN9132971SHIFTER GUIDE PIN
PN9142312SOCKET HEAD SCREWS 6-32 X 1/4
PN9142321PLANET HUB ONLY-6 SPLINE
PN9143841PLANET HUB ONLY-10 SPLINE (T14)
PN914384-S1PLANET HUB ONLY SPECIAL 10 SPL.
PN9148621CAP SCREW SHIFTER
PN9151321COTTER PIN
PN9152041SATURN CASE
PN9167791SNAP RING/PLAN HUB
PN9198661RETAINING RING PLANET PINS
PN9198691RING OIL SLINGER
COMPONENT ASSEMBLY KITS
PN911349SEAL AND GASKET KIT
KIT INCLUDES ALL GASKET SEALS & SEAL WASHERS
PN912821THRUST BEARING KIT
KIT INCLUDES: (2) 911099, (2) 911094, (2) 911100
PN9189634-PC PLANETARY GEAR SETS
KIT INCLUDES: (8) 911341, (8) 911342, (4) 911316, (4) 911090, (4) 911338,
PN911362SPLINED SHAFT KIT
KIT INCLUDES:(1) 911043, (1) 915132, (1) 911143, (1) 911147, (1) 911330
PN911317SYNCHRO RING SERVICE KIT
KIT INCLUDES:(2) 911067, (3) 911069, (3) 911071
PN911318SYNCHRO ASSEMBLY KIT
KIT INCLUDES:(2) 911067, (3) 911069, (3) 911071, (1) 911078, (1) 911346
PN91122326 TOOTH PLANETARY HSG. KIT
KIT INCLUDES:(1) 911092, (2) 911091, (1) 919869
PN91122429 TOOTH PLANETARY HSG. KIT
KIT INCLUDES:(1) 911093, (2) 911091,(1) 919869
PN911837PLANETARY ASSEMBLY (6 SPL.)
KIT INCLUDES:(1) 914232, (4) 911090, (1) 911095, (1) 911137, (4) 911316, (4) 911338, (8) 911341, (8) 911342, (1) 911731, (2) 919866, (1) 916779, (1) 911143
PN911839 -PLANETARY ASSY. (T14 10 SPL.)
KIT INCLUDES:(1) 914384, (4) 911090, (1) 911095, (1) 911137, (4) 911316, (4) 911338, (8) 911341, (8) 911342, (1) 911731, (2) 919866, (1) 916779, (1) 911143
PN911840 - PLANETARY ASSY. (METRIC 10 SPL.)
KIT INCLUDES:(1) 914384-S, (4) 911090, (1) 911095, (1) 911137, (4) 911316, (4) 911338, (8) 911341, (8) 911342, (1) 911731, (2) 919866, (1) 916779, (1) 911143