Home›Advance Adapters Team›Cisco (aka "The Cisco Kid")
Cisco (aka "The Cisco Kid")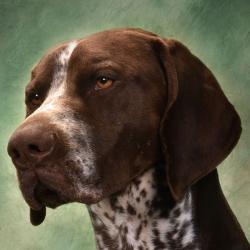 More Info: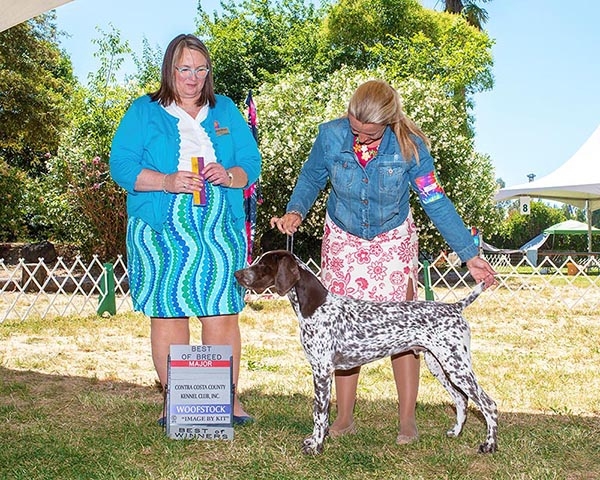 I was born on November 14, 2017 at the Shortales GSP Kennel. The theme of our litter was the band U2 so my AKC registered name is "MBISS GCHS Shortales & Coronet With or Without You", but you can just call me Cisco. I am a purebred German Shorthaired Pointer, a nephew of Pongo, and a new member of the Dog greeting family as of January 15, 2018!
You will find I have sweetest, most amazing disposition, but I'm quick-witted and happy to work to earn a treat - although I'm widely known at work as the diabolical 'counter surfer / waste management dog'! Being show bound, I will also began my training for the ring and eventually earn my championships just like my uncle. In the meantime, if you happen to come visit I'm sure to bring you a smile!
UPDATES:
December 2019 - January 2020 - Cisco made his 1st appearance at the AKC National Championship week in Orlando FL, winning Select Dog twice along with an Award of Merit. Standings for 2019: 20th Breed, 21st All Breed, qualifying him for GSPCA Top 25 in 2020! Then he proceeded to start 2020 off with a bang winning another Best In Specialty (and his Grand Champion Silver), then a huge Sporting Dog Group 2nd out of 600 dogs in Palm Springs! Not bad for a dog at the tender age of 2.
October 2018 - April 2019 - Cisco became a Champion in only 4 show weekends at 10 months of age, and then a Grand Champion at his next 3 show weekends at 17 months of age plus became a Best in Specialty (BISS) and multiple Group4 winner!
May/June 2018 - I made my first show debuts and twice now won Best of Breed (even over my uncle Pongo), already putting me close to my championship at only 7 months of age! My dog families and handlers couldn't be more proud of me and are hopeful that I'll be exceptional an show dog (although my secret is I work hard for treats and known around these parts as the 'trash can dog'!)
Tech Vault
Our Technical Data Knowledge Base contains information............ Learn More ›
Testimonials
See what others are saying about Advance Adapters!! Click Here!