Pongo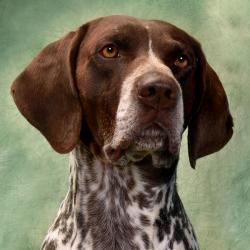 More Info: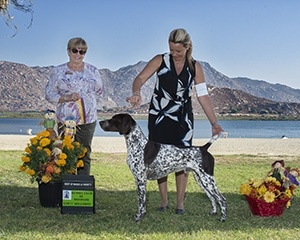 Hi I'm Pongo! I am a great nephew of Tuscan & Wyatt. My sister Shelby named me after watching 101 Dalmatians (even though I'm a German Shorthair Pointer) - it must be a puppy thing or because of my spots!
My first day on the job was back on January 27, 2015. I look a lot like Wyatt because we have very similar patchwork but you won't miss me if you come by to visit because I'm spunky and full of puppy energy. Even though my uncle Wyatt is showing me the ropes around AA, I'm also blazing my own roads around the shop, romping around the office, digging through trash cans & winning hearts by sneaking a quick nap lap when needed. If you don't catch me here I may either be on vacation or on the show circuit strutting my stuff, so look for me by my show name - MBISS GCHS Ehrhardt N Coronet W Shortales True Colours and wish me luck!
March 17-19, 2017: We have a new Champion in the house! Pongo finished at the Del Sur Friday Morning & Afternoon Specialty at Bates Nut Farm, Valley Center, CA! It had only been two weeks after the loss of his uncle Wifi and he seemed depressed going into the show; however, a spark started the fire under him and he was unstoppable the rest of the weekend. The next day (Saturday) he went on to win Best of Breed and Sporting Group and was up for Best of Show; then on Sunday he won Select Dog - putting him a 1/3rd of the way to his Grand Champion status! We all feel he did this all to honor his uncle Wifi! This was what we needed to really lift our spirits, and it couldn't have come at a better time!
UPDATES:
May 2019: Pongo's ranking of 12th Breed, 15th All Breed in the 2018 Standings made him 11th Place Qualifier in the Top 25 at this years GSPCA Nationals!
December 3, 2018: Pongo is now a Silver Grand Champion, Multiple Best in Specialty (MBISS) winner!
March 2018: Pongo is a Bronze Grand Champion!
October 2017 Del Valle Dog Show, Pleasanton CA: Pongo became a Grand Champion!
Tech Vault
Our Technical Data Knowledge Base contains information............ Learn More ›
Testimonials
See what others are saying about Advance Adapters!! Click Here!