Home›Advance Adapters Team›Millie (the Boxer)
Millie (the Boxer)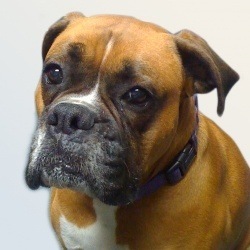 More Info:
I was a regular member of the crew since 2004 and a good morale moocher; I mean booster here too. I'll usually made my rounds in the morning starting with Vic who gave me treats out of his snack shop, and then I wiggled and snorted my way around the office giving personal attention where needed and an occasional lick on someone's pant leg to clean my tongue. After a rough day at the office playing, snacking and napping (I was known to snore), my dad, who manages the gear cutting department, would take me home after a job well done.
****We lost Millie, another one of our early originals, back on March 5, 2015. Along with Tuscan, she'll always be part of AA family 'tales' and her presence missed.****
Tech Vault
Our Technical Data Knowledge Base contains information............ Learn More ›
Testimonials
See what others are saying about Advance Adapters!! Click Here!