Home›Advance Adapters Team›Wyatt Earp
Wyatt Earp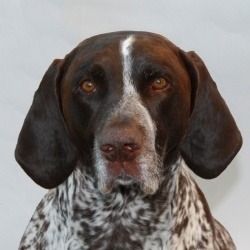 More Info:
I joined my brother and the AA dog crew in early 2006. I was just the "little guy" then, but I brought the "play" into the office. At age 3, I came down with Valley Fever and pneumonia and was pretty sick for about 6 months. I've since fully recovered but, unfortunately, that traumatic experience brought on fear/protective issues in me and now I've taken on the roll as Guard Dog/Door Bell Barker. So if you should visit use caution when entering if barking is heard, and don't take it personal if I initially give you bad customer service. Bring treats and let me trust you on my terms and then you're good to purchase or resume your tour. Like my brother, my pastime is hunting squirrels and lizards, napping, snacking and playing with my girlfriend Millie. I can be identified by multiple brown patches.
****9/27/05 - 3/3/17: Sarakraut Wyatt Warp Coronet aka "Wifi" passed away peacefully in the early morning hours of March 3rd. As one of the shop original anchors, he graciously accepted other newbies to the AA dog crew as well as his nephew Pongo when he joined the family. The highlight of his senior 'pup' years was going into the show ring for the first time and placing 3rd overall in Veterans - boy did he soak up the applause! Often underestimated because of his protective nature, he really was a sweet soul that has made an indelible mark on our hearts. RIP big-hearted boy. We will miss you, your bark, and snack buddy nature around workplace!
Tech Vault
Our Technical Data Knowledge Base contains information............ Learn More ›
Testimonials
See what others are saying about Advance Adapters!! Click Here!