Home›Advance Adapters Team›Tuscan Dante
Tuscan Dante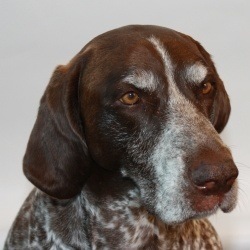 More Info:
I am the pup who set the standard for all who come after me. You see, I was the one who pioneered the freedoms that all dogs enjoy today here at Advance Adapters. Back in early 2003 when I came on the scene, I use to just hang out in the front yard (now the AA rock test pile) and contemplate various aspects of nature and my human companions. After the December 2003 earthquake, I gained full access to the office and it wasn't uncommon to find me lounging on the lobby couch doing my part by being the first to greet any visitors to Advance Adapters. I helped associates tidy up their offices, otherwise I've was known to do it for them (unattended snacks were fair game). I also enjoyed chasing squirrels and lizards out front with my brother or napping under one of my parent's desks. Friends & visitors alike identified me by my one single brown patch on my back.
***Our beloved Tuscan passed away from canine congestive heart failure on June 18, 2014 while vacationing in Santa Cruz & Monterey. At almost 12 years of age, he left us doing what he loved best - playing, adventuring, squirrel (and cat) hunting & being a most loyal companion.
Tech Vault
Our Technical Data Knowledge Base contains information............ Learn More ›
Testimonials
See what others are saying about Advance Adapters!! Click Here!